Dennis turned **cough cough*** 36 today. So we went to an Argentine Restaurant with friends, ate too much, sang "Happy Birthday" in Spanish, and he made a kinda big deal because I thought it would be funny to add black candles this year. The tradition is to get a "2" and a "9" and then add a candle for each extra year. (This is our third year doing this..) Before, the candles were pink and white and pretty much what I had inherited from mom. This year I bought black. He was not amused.
But what I did recognize tonight (or maybe remember?) is that my husband is a camera whore. He LOVES taking photos of people and he loves being in photos. Here are some of the better ones.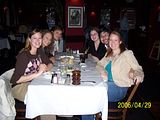 This next one kinda goes with when I suggested we move to Utah and become Mormons. I didn't mean it. But the resulting photo is really actually pretty cute.
And this is a result of the fact that we live on a college campus and today was graduation. Apparently, some of our not-married neighbors are passing out Trojan condoms. And they thought it would be funny if they would leave some out on the entrance lawn for all of us grown-ups to see. Considering the fact that we can't even have cooking alcohol at Pepperdine, I thought this was kind of like one of those "what doesn't belong in this picture" pictures.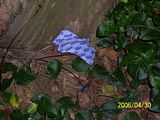 My husband had a fantastic birthday and really felt so good afterwards (so thanks everyone!!) And he is sleeping now. Which means I am going to use his birthday blog to also express that I am a little bitter that Brittany Spears is five months pregnant and still wears like a size 10. It irritates me in like five different ways. Her little sister films her tv show here at Pepperdine. I'm praying that they don't come over this summer and irritate me. I don't want to see a pregnant brittany on my track with her lazy husband.