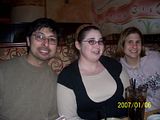 (which is good because tomorrow I start school and things are going to start sucking).
This weekend we not only watched "A Scanner Darkly" (which is very weird and perhaps a movie created by people who were on drugs?) and "Lady in the Water" (which is also weird but you expect it because the guy who made it always makes strange movies anyway), but we also saw "A Night in the Musuem" last night. It isn't a movie that we would normally go see (It's PG and Dennis is tired of Robin Williams) but it was a good family movie (It reminded me of "Jumanji") And I thought of
Cindy
:)
Today, I did laundry and mentally prepared myself for the fact that today is my last day of vacation and things being awesome with hubby. Tomorrow I start back up with Greek and a class called "Theology of Ministry". It's nothing so horribly stressful in and of itself but you add in


dennis is going to school too and will be in Tennesee for the last 2 weeks of January. I can't drive.


family problems


daily wifely duties that include the dishes and laundry and making the bed and kissing hubby when he comes home and listening to him talk about a job that is really horrible where they treat him like crap


God is here on the list somewhere!


I'm on the list somewhere!
But that is why I have a blog. (Hugs to all of you guys!!!)
photos- the cheescake factory, last night and some belated photos from our Christmas morning in Las Vegas.